Need help getting started or call us!
L. N. Technologies
V/22-B, Shree Ji Complex,
Behind Vinayak Hospital
Sector-27, Noida (U.P.)
E-mail: info@lntechnologies.in
Phone: +91-98117-34462
Our Products >> HR Recruitment Management System
---
HR is the backbone of an organization, who decides the manpower process. To bridge the gap between employee requirement of a company and its hiring process, L N Technologies has introduced LNHRRMS software in the market. This software tends to ease-out the tension of excessive paperwork and enables HR staff to hire the "right" candidate within stipulated time period. We are aware of the time-consuming process of HR and have created software to maintain a hassle-free workflow.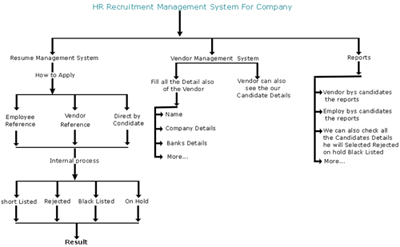 Key Features
Maintain multiple candidate details entered by Candidate, Vendor, Employee
Add all master information
(a) Industry
(b) Job Profile
(c) Designation
(d) And many More...
Add and maintain vendor, operator and department
Add/ Modify Jobs Details
Check Candidate Resume Details
(a) By Vendor Reference
(b) By Employee Reference
(c) Direct Candidates List Research
Search
(a) Advanced Search (A/B)
(b) Simple Search (A/B)
Shortlist/ Blacklist/ Put on hold any resume
Change any resume status
Generate more than X reports on daily, weekly and monthly basis
(a) Check resume by employee reference.
(c) Blacklisted resume.
(e) Vendor details.
(g) Edit Post jobs details.
(i) And Many More………….
(b) Check resume by vendor reference.
(d) Shortlisted resume.
(f) Appointed candidate resume.
(h) Posted jobs details.